Ways To Memorialize A Loved One After Cremation
May 14, 2021
Memorialization is essential in every culture. This practice has been around for centuries. Over time, customs have changed, but the remembrance of a loved one after their passing has stuck around. However, you can memorialize your loved one in plenty of ways after cremation. For instance, you can set a bird free at a significant place. You can pay tribute by cooking your loved one's favorite meal, or visiting their favorite sites. Making such approaches might prove helpful in going through the grieving process. In this article, we'll discuss some memorial ideas after cremation that you can use to honor your deceased loved one's memory.
Here are some ways to memorialize your deceased loved one after cremation:
1. Choose a Memorial or Monument
You can use a memorial or a monument of remembrance to pay tributes to the life of a loved one. As they are available in granite and marble, one can engrave unique messages on them. They serve as permanent places the family of the deceased can visit whenever they want. A physical memorial is a memento for future generations to remember the dead.
2. Consider installing a Memorial Bench in a Park
Memorial benches are a brilliant way to remember your loved one who has passed on and serve as an everlasting reminder and celebration of their lives. They are a delightful idea for a person who had a love for a particular place. Memorial benches installed on seafronts, parks, on public commons, or village squares. These benches help in keeping your beloved's memory alive forever. Bearing a memorial plaque with the departed's name and a personalized note, they convey a message of affection that will remain for generations to see.
3. Planting a Memorial Garden or a Memorial Rose Vine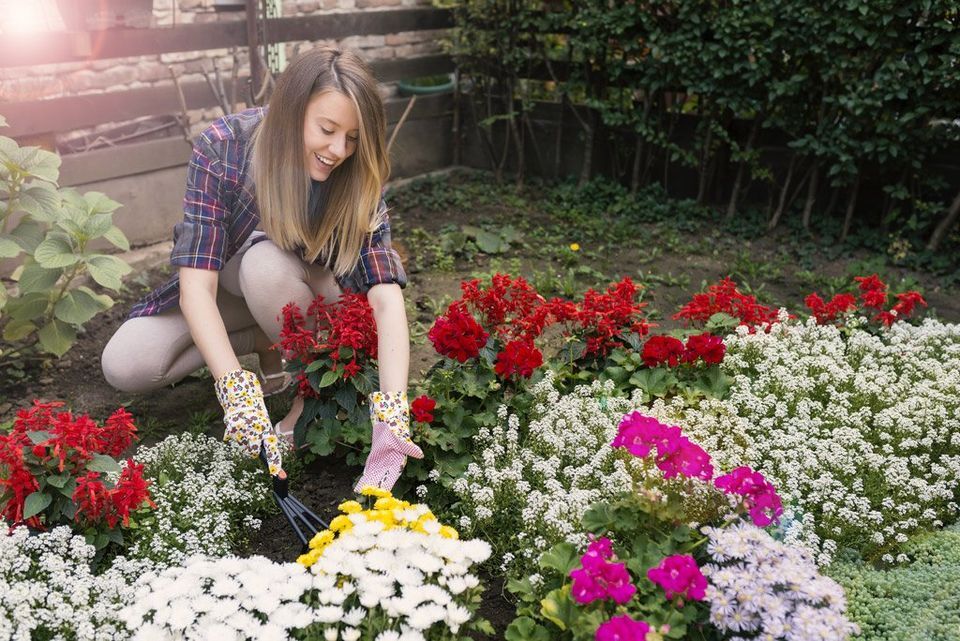 If your deceased loved one admired nature, planting a garden or memorable plants for their remembrance can be an excellent way to cherish their memory. It creates a surrounding filled with memories that soothe the grieving minds of the departed soul's family.
4. Give Back to Charity or Create an Honorary Scholarship
If your loved one was involved in doing charity, you could consider contributing to it in his or her name, or you can honor the deceased with a memorial donation. A charitable contribution in memory of someone who has passed away can help others. Consider memorializing with a donation will help someone who is living.
If you have the financial means, consider setting up scholarships. Go to their alma mater, and set up a scholarship at a high school or college in the name of the departed soul. This action will ascertain that your beloved's legacy lives on.
5. Online Memorials
If your deceased loved one had friends and family across the country and the world, the online memorial is the way to go. It will provide a virtual space where all of them can come together in the remembrance of the departed soul. By sharing stories and photos, you can commemorate their unforgettable existence on an online platform.
6. Cremation Urns
An urn is a container that holds the remains or the "ashes" after cremation. Cremation urns are made from various materials like ceramic, wood, granite, glass, stainless steel, and so on and cost from around $65 on the low end to about $350 for the most premium selections. Moreover, they come in different shapes, sizes, and styles that can be pricey or affordable. Some stores also offer possibilities for personalizing cremation urns by engraving personal messages on the container. If you prefer keeping the ashes or a small portion of them at home, you can buy a meaningful cremation urn to be displayed on a shelf or mantelpiece to memorialize a loved one and surround yourself with their warm memories.
7. Beautiful Memorial Jewelry
Whether it's a crystal pendant or a metal bracelet that you wear around your wrist, keepsake jewelry is a funeral ritual being rediscovered as an approach to honor the memory of a loved one who has passed away. Nowadays, big companies, jewelers, and craftspeople create pendants, bracelets, and rings that can hold cremation ashes. Remembrance jewelry having lockets for ashes, resin beads that contain cremains or fingerprint mementos, lets you keep your deceased beloved close to your heart and in your thoughts forever.
8. Memorial Fireworks
If the departed was a daring person who lived life to the fullest, you could bid farewell to him/her in an equally adventurous way. Creating stunning fireworks which contain cremation ashes can be a magnificent way to celebrate the lively spirit of the deceased.
9. Memorial Tattoos
It's usual for people to get a tattoo in the memory of their loved ones after they die, but some studios are now using custom inks containing the ashes to create tattoos. Though fewer in number, some tattoo parlors have begun offering this unique memorial art to bereaved customers. The practice includes mixing a few ounces of the deceased's ashes with tattoo ink to create various designs.
10. Press the Ashes into a Music Record
If you are searching for a creative idea for what to do with your beloved's cremains, this could be the best option for you. Some companies, like AndVinyly, provide people the opportunity to immortalize their beloved deceased by having the cremains pressed into musical vinyl records. Most importantly, you get to choose what music or songs you want on the memorial disc.
11. A Trip Around The Globe
If your departed loved to travel, you could take their ashes along on a world tour. It is an ideal way to honor the globetrotting spirit of your loved one. But can you take cremation ashes on a plane? Usually, airlines allow people to travel with urns. As long as you comply with airline guidelines, you won't have to face any obstacles in your memorial trip.
12. Aerial Scattering
Aerial scattering is another significant way to scatter your loved one's remains over a special place. For people choosing cremation, this option can symbolize the freedom-loving spirit of the deceased. Most pilots who have specialized in aerial scattering use a special apparatus connected to the plane to spread the ashes efficiently. Although many states don't have laws against aerial scattering, federal law prohibits the release of any object, like a cremation urn, that may injure someone on the ground or harm anyone's property. Make sure you don't drop the urn or any other object while scattering the ashes or pouring them into the scattering apparatus.
13. Columbarium
A columbarium is a type of mausoleum. The only difference is that a mausoleum accommodates casketed remains, while columbarium stores cremated ashes. Both are sacred storage places for the remains of loved ones. If you don't own a permanent place to house an urn but want your family and friends to view it without difficulty, a columbarium for cremated remains might be the most suitable choice.
14. Coral Reef Memorials
By putting ashes into cement structures that the coral reef can grow from, you can pay permanent environmental tribute to the life of your loved one. The process involves mixing the cremains with the cement and pouring them into your desirable design on which the corals can grow.
15. Keep Ashes in a Cuddly Bear
Children usually suffer the most during the death of a loved one, and to help them deal with the grief of bereavement, the Cami-bear was designed especially for a situation like this. This company adds cremains in a compartment present inside the bear or any toy that can be hugged and played with, which creates a feeling of closeness to the beloved family member. These cuddly toys often have a container for the ashes with a hidden opening at the back and make a suitable option for families who lost their child.
If you have any questions feel free to reach out to "A Direct Cremation" at 1-877-938-0672